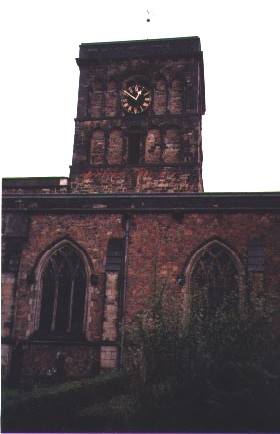 ibrary of St.Nicholas

Welcome to the Library of St. Nicholas, an archive of articles and links under the patronage of Magistra Nicolaa de Bracton. The photograph to the right is the Church of St. Nicholas in Leicester, England, and was taken by me on a visit in 1995.

I live in the Canton of Eoforwic in the Kingdom of Ealdormere, otherwise known as most of the Province of Ontario, Canada. I was made a Companion of the Order of the Laurel in April, A.S. 30 (1996) for my research and article writing (which you can access on this site), and a Companion of the Order of the Pelican in September, A.S. 38. I am currently serving as Society Chronicler. I'm also involved in archery, pewter casting, costuming, calligraphy, and am a former chronicler at local, baronial, and Principality levels. I am a former editor for Tournaments Illuminated, the quarterly magazine of the SCA. I have also served as editor for the past four years of the Pennsic Independent. My husband, Gunthar, is also in the SCA.

I have numerous dependents in the SCA. Here is a listing, and maybe coming soon I'll add some links to their articles and research....

Outside the SCA, I hold a PhD in History, which mostly hangs on the wall looking pretty while I work at a Large Bank as a business analyst and tech-herder.

Many have seen photos of my heraldic counterchanged heraldic hockey surcote. In honour (!?) of the recent lockout season in the NHL, I added some special accessories....


The Bookshelf
Here may be found a wide variety of articles on many topics by several authors. Feel free to browse, and if you're interested in publishing these articles in a newsletter, check out each author's permissions page...
Nicolaa's Scribal Gallery

Master Hector of the Black Height

...articles on Scottish history, SCA culture, and SCA combat

Mistress Marian of Heatherdale

...articles on Scottish and English history and Arthurian legend.

Lady Asa Gormsdottir's Pentathalon Documentation

The SCA Visitor's Guide to Fabric Shopping in Toronto

Our SCA Photo Collection on Eirik Anderson's Photo Archives (tworavens.com)...photos covering 25+ years of SCA history in Eoforwic and Ealdormere collected from various sources

Useful SCA Links
Medieval History Links
Legends, Humour, Ruins, Disasters, Exploding things, etc....